October 8th - Issues Affecting Women of Color Panel
On October 8th at 7pm EST Pamlico Rose Institute will host a Zoom Panel discussion to highlight issues affecting Black, Indigenous and women of color Veterans. We will be broadcasting live to allows for questions and comments from our listeners.
The panel highlights accomplished women of color who will apply their own personal experience and expertise in the military and as Veterans to help identify issues at the intersection of gender, race and ethnicity to better inform organizations that serve Veterans and offer a beginning dialogue on how to address the inequities these issues highlight.
Tanya Rogers, Senior Victim Assistance Advisor for the Department of Defense, Sexual Assault Prevention and Response Office, Former Army National Guard, 1997-2005
Toni McWilliams, Disabled Veteran and Motivational Speaker, raising awareness about the benefits of trauma supportive services, former Sgt, US Army, 2005 – 2011
Shirley S. Raguindin, Director of Military Equal Opportunity and Defense Equal Opportunity Management Institute (DEOMI) liaison at the Office for Diversity, Equity, and Inclusion, Office of the Under Secretary of Defense, Personnel and Readiness, Col, US Air Force, retired
Robert Greene Sands, PhD – CEO, Pamlico Rose Institute & adjunct anthropology professor, Norwich University
October 9th - Art Exhibit and Vet Talks
Friday, Veteran and Active Military Art Exhibit: All Veterans, active military and families of both are encouraged to submit their artwork to this year's Virtual Healing Veterans art exhibit. Images of art will be displayed in a virtual gallery complete with media, dimensions, titles, artist, about and/or art, and price, if for sale. Interested buyers will contact us through the gallery and we will connect artist and buyer. Artists should contact kaitlyn@pamlicorose.org or submit their art through the link below. The art exhibit will stay up for 30 days. There is no charge to the artist to submit work, nor will Pamlico Rose apply a commission to the sale. 
At 7pm on Friday, Vet Talks – IBX will feature a live Zoom presentation on the topic of resilience and Veterans. 
October 10th - Bike & Motorcycle Ride
Saturday Morning, the Treva Inzerillo Bicycle Ride for Rose Haven will be a virtual ride, Register to receive a Ride for Rose Haven T-Shirt. At 8am, a brief live-streamed ceremony from Rose Haven Center of Healing kicks off the bike ride and is open to the public. The motorcycle ride will start at 11am from Boneyard Harley-Davidson in Winterville and end at Rose Haven.
A Virtual Veteran Outreach Fair was developed to help connect Veterans with organizations and businesses that serve Veterans. Interested Veteran Service Organizations, and business that offer free services to Veterans can register for the fair below. The digital Veteran Service Directory will go live following the opening ceremony for the bike ride and will include descriptions of services, photos and contact information for Veterans to access. The Directory will be open for a year at no cost to participating organizations. 
Register for the Motorcycle Ride
Healing Vets Weekend and the Ride for Rose Haven: Supporting Women Veterans
In 2018 we at Pamlico Rose wanted to bring Veterans in eastern North Carolina together in an event that promoted healing and a sense of community. We also felt that at the same time, we could raise awareness of issues affecting Veterans to Veterans and non- veterans alike. We chose a weekend in May and called it Healing Vets Weekend. The featured events and activities reinforced our goals and were also important in the healing process:  an art exhibit, talks that spoke to issues of healing in Veterans, yoga, a bike ride with three different rides, and an outreach fair that provided Veteran Service Organizations a chance to reach directly to Veterans. That weekend unfolded in Washington, NC at the Historic Turnage Theatre, at the scenic waterfront Festival Park and in bike routes through the scenic Inner Banks of North Carolina.  In 2019, we added food and a concert.
In 2020, we have been forced to make some major changes in order to insure the safety of our supporters. Rescheduled from our original May date Healing Vets Weekend will take place October 9th-10th, 2020 and be a completely virtual event. Save the date for the 2020 Healing Vets Weekend and we hope to see you there!
Tony Weichel is a Korean war US Air Force Veteran, and an artist. After leaving the service, Tony was a design/process engineer for a multitude of corporations. He was also in the US Coast Guard auxiliary. Tony has been a contributor to the Healing Vets Weekend Veteran/Active Military Art Exhibit for the last two years. One of his 2019 contributions was an amazing embroidered depiction of his life journey. At age 91, Tony is still creating works of art.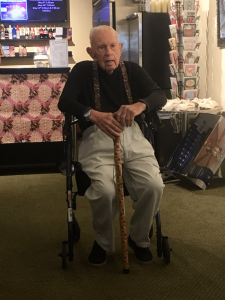 Robert Harrell is the featured artist for the 3rd annual Healing Vets Weekend Veteran/Active Military Art Exhibit. He is an Army Veteran and a retired Firefighter/Paramedic/RN he is also a self taught artist. For more information on Robert Harrell and his featured painting "Healing Hands" check out his bio here.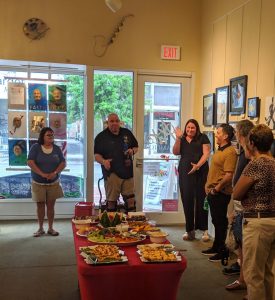 Treva Inzerello is in her 50s, fulfilling a dream that she held onto for over 30 years, to ride her bicycle across the country. Though it may be more common to ride from west to east, and more comfortable not to ride through the heat of the summer, Treva is holding tight to her dream. Leaving on June 5th from the Coast of North Carolina Treva will reach the Pacific in Oregon via the Trans America Bicycle Trail. Not only a dreamer Treva is also a generous donor raising awareness and asking for donations to Pamlico Rose. For more information on Treva's Journey listen to episode 3 and episode 5 of the Rose Haven Chronicles.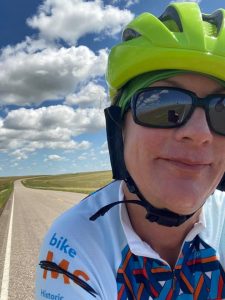 As of August 7th, 2020 Treva is in North Dakota!