COVID-19 has impacted onsite programming at our Rose Haven Center of Healing, delaying our Total Life Fitness retreats, the 8-week residential Reintegration and Recovery (R&R) experience, day events and our gardening (GAIA) and woodworking (GRIT Restoration) programs. With the ability to social distance, we welcome volunteers to work in the gardens. Like many organizations, PRI moved events and activities that support their mission to a virtual or online space. Healing Vets Weekend was mostly virtual and we have taken that approach and are running with it. Below are "ongoing and upcoming" programs and events. Click on the link for more information.
Women Veterans Discussion Series
Our ongoing Discussion Series focuses on promoting informed perspectives of the issues and challenges facing women Veterans during their transition into civilian life and reintegration into their communities. Future events will include a variety of formats including seminars, workshops, panel discussions, and facilitated conversations. To receive notice of upcoming WVDS events, please sign up here.
PRI's overall goals of the Discussion Series include:
1)      Elevate women Veteran voices to highlight unique experiences
2)      Educate communities at the local and national level
3)      Connect featured Veteran stories to shared experiences of other Veterans
4)      Inform programs and policies in the public, private, and non-profit sectors
Issues affecting Women Veterans of Color
This inaugural Discussion Series panel was in part a response to the confluence of events and movements that have created an inflection point, or a time of reckoning in our society at the intersection of race, ethnicity, and gender. The panelists shared their personal stories and experiences of the various challenges they face as women warriors of color while in the military, during their transition to Veteran status, and that continue to impact them today. These challenges include the enduring societal struggles at the interpersonal level, as well as policies and practices at the organizational level that reflect institutional racism and sexism, unintended or not.  The compelling narratives of our panelists revealed several common themes, such as identity, stigma, isolation, negative experiences/trauma, and others that create barriers and test the resilience of women Veterans of color. 
The podcast Rose Haven Chronicles is an audio exploration of the importance of wellness and resilience-building to living a healthier life while preparing for the uncertainty the future may bring. Chronicles introduces listeners to Total Life Fitness, a program developed by Pamlico Rose to help women Veterans reintegrate after leaving the military. Living fit can be especially important in getting through crises like COVID-19   
In today's world, every now and then it is nice to explore a topic without the restrictions of character number, let along word counts. So we have decided to stick our foot in the waters of long-form writing. Advocates of this kind of writing heartily believe that if written well, longer and more in-depth articles can be compelling and insightful. We lead off our experiment in long form writing with a piece that explores the healing effects of art and creativity on those recovering from trauma. We shamelessly use artist Sue Kammers and her art as our lens into an alternative therapeutic approach to treating Veterans with PTSD that is gathering advocates in and out of the VA. We hope you enjoy Stained Glass Resilience, our initial effort into at least insightful, compelling may take an article or two.
Pamlico Rose Virtual Art Exhibits
The Artist-in-Residence is a 6-month program for aspiring artists who are women Veterans, active military or current/former health care workers who worked primarily with Veterans. The artist-in-residency program is part of the Pamlico Rose Institute's mission to advance wellness and resiliency-building programs. The residency program, like much of the wellness efforts offered by Pamlico Rose sits at the intersection of nature, creative expression, and transcendence.
The spring 2021 Artist-in-Residence will be Sue Kammers
The GRIT Restoration (GR) woodworking program involves restoring something old and discarded and breathing new life into it, both for the woodworker and the wood.
The effort Green Agriculture Initiative for All (or GAIA, the ancient Greek mythological deity who was the mother of all life on earth) is the program dedicated to planting, growing and harvesting produce that is provided to the local food pantry.
Work Days for more information contact Robert Greene Sands at robert@pamlicorose.org
October 8th - Issues Affecting Veteran Women of Color Panel
Thursday at 7pm EST, Pamlico Rose Institute with co-sponsor East Carolina Veterans Coalition, hosted a Zoom Panel discussion to highlight issues affecting women Veterans who are Black, Indigenous and people of color. We will be broadcasting live to allow for questions and comments from our listeners. 
Overlaying the many challenges faced by all women actively serving or Veterans are the unique concerns affecting under-represented women Veterans along with the effects of systematic and institutional racism and sexism found in the DoD, the VA, and more broadly in our society. Recently, there is a confluence of events and movements that have created, as many now say, an inflection point, or a time of reckoning in our society, such as #MeToo, #Black Lives Matter, #IAmVanessaGuillen, and the worldwide response to the tragic killings of George Floyd and Breonna Taylor (and the countless many before). This created a space and visibility to look at long overdue  issues and we at Pamlico Rose are doing what we can to contribute. Thus, the genesis of this panel so we as an organization, and others like ours, can better serve those we support. The panel highlights accomplished women of color who will apply their own personal experience and expertise in the military and as Veterans to better inform organizations that serve Veterans and offer a beginning dialogue on how to address the inequities these issues highlight. 
Tanya Rogers, Senior Victim Assistance Advisor for the Department of Defense, Sexual Assault Prevention and Response Office, Former Army National Guard, '97-'05
Toni McWilliams, Disabled Veteran and Motivational Speaker, raising awareness about the benefits of trauma supportive services, former Sgt, US Army, '05 – '11
Shirley S. Raguindin, Director of Military Equal Opportunity and Defense Equal Opportunity Management Institute (DEOMI) liaison at the Office for Diversity, Equity, and Inclusion, Office of the Under Secretary of Defense, Personnel and Readiness, Col, US Air Force, '86-'16  
Robert Greene Sands, PhD – CEO, Pamlico Rose Institute & adjunct anthropology professor, Norwich University.
Litonya J. Wilson, Retired Deputy Director for the DoD Sexual Assault Prevention and Response Office. Former Colonel US Army, 26.5 years of service.
October 9th - Art Exhibit
Friday, Veteran and Active Military Art Exhibit: All Veterans, active military and families of both are encouraged to submit their artwork to this year's Virtual Healing Veterans art exhibit. Images of art will be displayed in a virtual gallery complete with media, dimensions, titles, artist, about and/or art, and price, if for sale. Interested buyers will contact us through the gallery and we will connect artist and buyer. Artists should contact kaitlyn@pamlicorose.org or submit their art through the link below. The art exhibit will stay up for 30 days. There is no charge to the artist to submit work, nor will Pamlico Rose apply a commission to the sale. 
October 10th - Bike & Motorcycle Ride
Saturday Morning, the Treva Inzerillo Bicycle Ride for Rose Haven will be a virtual ride, Register to receive a Ride for Rose Haven T-Shirt. At 8am, a brief live-streamed ceremony from Rose Haven Center of Healing kicks off the bike ride and is open to the public. The motorcycle ride will start at 11am from Boneyard Harley-Davidson in Winterville and end at Rose Haven.
A Virtual Veteran Outreach Fair was developed to help connect Veterans with organizations and businesses that serve Veterans. Interested Veteran Service Organizations, and business that offer free services to Veterans can register for the fair below. The digital Veteran Service Directory will go live following the opening ceremony for the bike ride and will include descriptions of services, photos and contact information for Veterans to access. The Directory will be open for a year at no cost to participating organizations. 
Veteran Service Organization Fair
Healing Vets Weekend and the Ride for Rose Haven: Supporting Women Veterans
In 2018 we at Pamlico Rose wanted to bring Veterans in eastern North Carolina together in an event that promoted healing and a sense of community. We also felt that at the same time, we could raise awareness of issues affecting Veterans to Veterans and non- veterans alike. We chose a weekend in May and called it Healing Vets Weekend. The featured events and activities reinforced our goals and were also important in the healing process:  an art exhibit, talks that spoke to issues of healing in Veterans, yoga, a bike ride with three different rides, and an outreach fair that provided Veteran Service Organizations a chance to reach directly to Veterans. That weekend unfolded in Washington, NC at the Historic Turnage Theatre, at the scenic waterfront Festival Park and in bike routes through the scenic Inner Banks of North Carolina.  In 2019, we added food and a concert.
In 2020, we have been forced to make some major changes in order to insure the safety of our supporters. Rescheduled from our original May date Healing Vets Weekend will take place October 9th-10th, 2020 and be a completely virtual event. Save the date for the 2020 Healing Vets Weekend and we hope to see you there!
Tony Weichel is a Korean war US Air Force Veteran, and an artist. After leaving the service, Tony was a design/process engineer for a multitude of corporations. He was also in the US Coast Guard auxiliary. Tony has been a contributor to the Healing Vets Weekend Veteran/Active Military Art Exhibit for the last two years. One of his 2019 contributions was an amazing embroidered depiction of his life journey. At age 91, Tony is still creating works of art.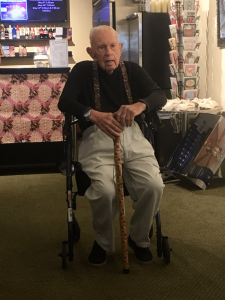 Robert Harrell is the featured artist for the 3rd annual Healing Vets Weekend Veteran/Active Military Art Exhibit. He is an Army Veteran and a retired Firefighter/Paramedic/RN he is also a self taught artist. For more information on Robert Harrell and his featured painting "Healing Hands" check out his bio here.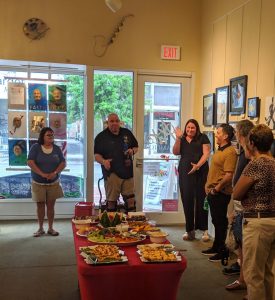 Treva Inzerello is in her 50s, she just fulfilled a dream that she held onto for over 30 years, to ride her bicycle across the country. Though it may be more common to ride from west to east, and more comfortable not to ride through the heat of the summer, Treva held tight to her dream and pedaled across the country this summer. She left on June 5th from the Coast of North Carolina and reached the Pacific Ocean, west of Portland, OR 105 days later on September 18th. On her ride she raised awareness of issues that impact women Veterans and fundraised for Pamlico Rose's Rose Haven Center of Healing. For more information on Treva's Journey listen to episode 3 and episode 5 of the Rose Haven Chronicles.