Welcome to the Betty Ann Sands Memorial Healing & Artful Landscape!
The Betty Ann Sands Memorial Healing & Artful Landscape offers visitors of all abilities opportunities for exercise, creative expression, skill building, socialization and most importantly, the chance to forge a vital connection and partnership with nature. Located in Washington, NC's historic district, three blocks from the Pamlico River, the BAS Memorial Landscape is an integral part of the Rose Haven Center of Healing, dedicated to women Veterans by advancing wellness and resilience-building Total Life Fitness (TLF) programs. 
Total Life Fitness Gymnasium
Many women Veterans suffer from trauma, or other negative experiences, while in the military. These experiences, along with gender-based social, economic, behavioral and institutional obstacles encountered after leaving the military can greatly increase stress and anxiety during reintegration into family and community life. The BAS Memorial Landscape is a welcoming and safe space that can help minimize stress and anxiety while growing life fitness across mind, body, soul and through community. The landscape acts as a life fitness gymnasium, offering elements of horticultural and creative expressive therapy design to populations experiencing emotional, cognitive, social and even physical challenges. Horticultural therapy emphasizes plant/people interactions in various treatment, rehabilitation, or vocational programs while expressive arts therapy utilizes, "the innate human desire to create and channel though music, visual arts, poetry, dance, and other artistic forms in a variety of settings to channel self-expression and help people examine their body, feelings, emotions, and thought process." This hybrid design enables Total Life Fitness skills through wellness and resilience-building activities.
At the Rose Haven Center of Healing, there is a purposeful and intended interface of the healing elements of nature, represented by a plant dominated landscape, mindfulness, and transcendence properties of certain kinds of human activity. This interface is represented by features such as:
A sensuous interaction, or lived experience with plants (planting, weeding or harvesting) and activities of creative self-expression filtered through all the human senses to also include memory and proprioception (how your brain understands where your body is in space). The "vividness" of time spent in, at and interacting with nature and self in a healing landscape.

 

Kinetic movement through nature via accessible walkways, pathways and a garden labyrinth – promoting playfulness, mindfulness, and physical exercise while defining boundaries of spaces, activity zones and displays. These elements focus attention and energies to components and displays within the plant environment, historical context and to infrastructure and sites of creative expression.
Creative expression activities such as crafts and woodworking, in designated spaces out in the gardens or in the open-air barn.

 

An abundance of plants and people/plant interactions that provide volunteer and more formal gardening opportunities offered in the organic raised bed produce garden as well as shrub and perennial beds throughout the healing landscape.
Resting and sitting areas designed for individual reflection.
A council ring and fire pit designed to promote community building for women Veterans involved in our Total Life Fitness programs, and other local Veteran or community groups interested in using it.
Healing touchstone – provides a physical, emotional, and transcendent sense of place important in healing.

 

Subtle and occasionally overt use of metaphor Implicit in the healing blueprint to give those who visit a natural language to envision a journey of healing to themselves and others.
In addition, special events such as presentations, group tours, landscape workdays, and occasional and regularly scheduled classes encouraging all aspects and benefits of the nature/human interface – including gardening, self and group expression, movement, and more to promote the many benefits the healing landscape offers to community members
For more detailed information on specific garden features, view our garden map below.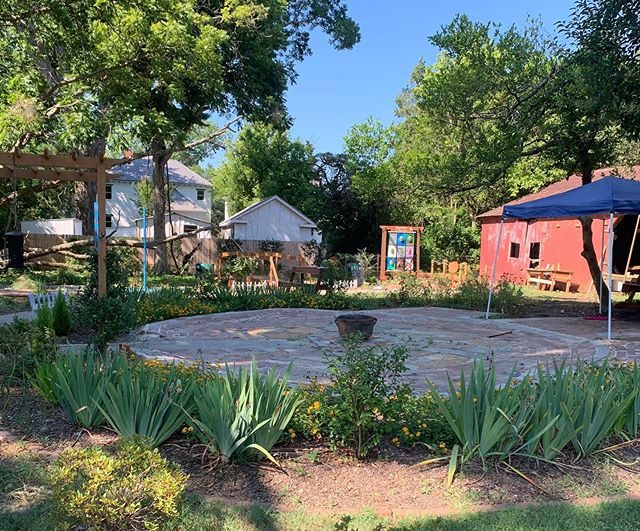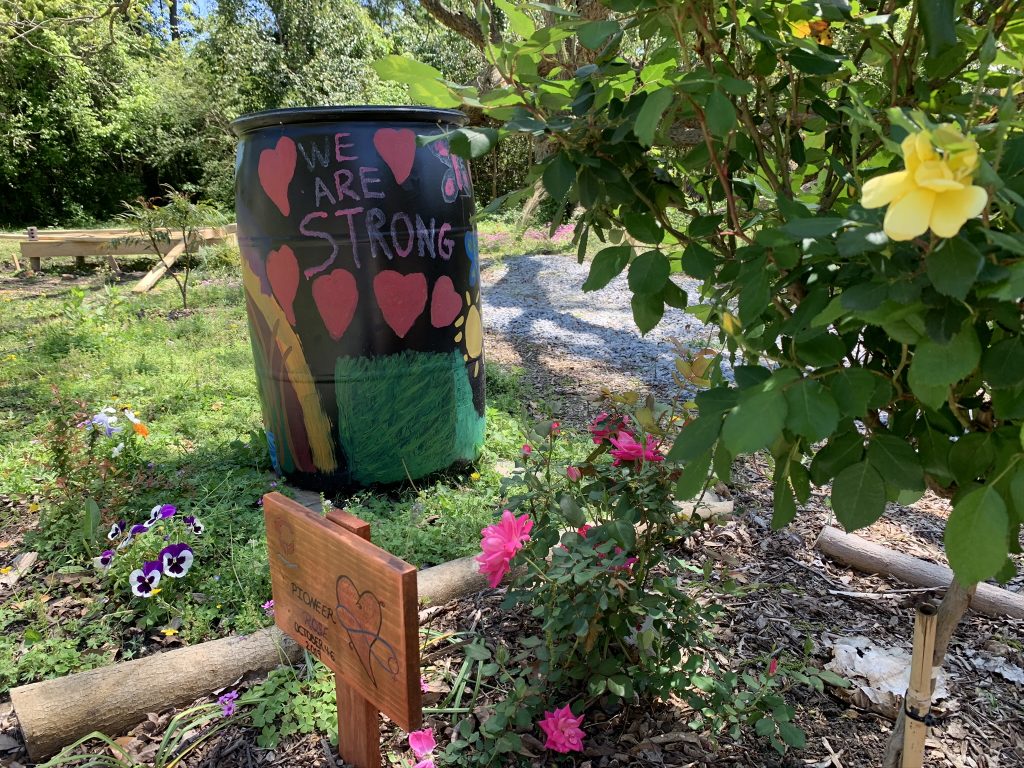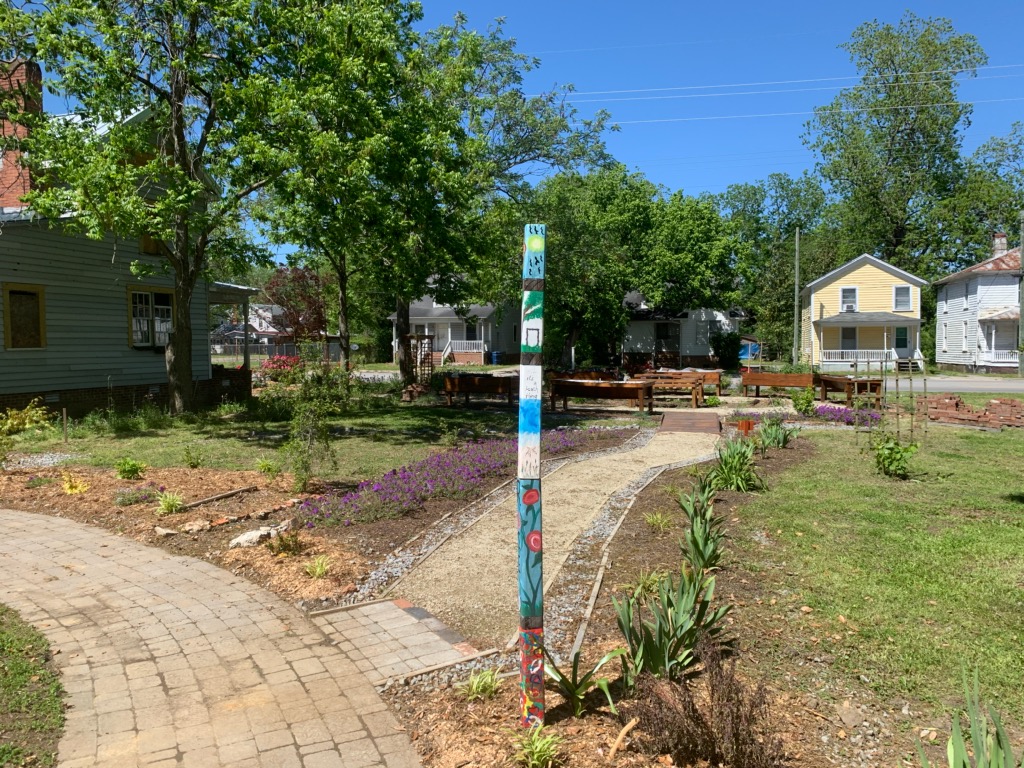 Rose Haven Center of Healing's Haven House

The heart of the healing landscape, currently being restored for use in our Total Life Fitness (TLF) and Reintegration & Resiliency (R&R) retreats for women Veterans. This 1892 residence will house women Veterans involved in our programs.

 

The Barn

The creative hub, where woodworking and other crafting takes place. Currently, the Barn is being used as an open-air workshop for woodworking projects, and the GRIT Restoration Program. After the Rose Haven house is completed, the Barn is next to be rehabilitated.

Council Ring in honor of Eric and Patricia Sands Foundation – designed and built by Herb and Robert Greene Sands

A gathering center for garden events and discussions

Art in the Gardens

Disabled veterans piece
Pictures and descriptions of each piece
Water barrels – painted by the Total Life Fitness 2019 (?) group, self named Pioneer Rose
Totem poles – built and painted by the Total Life Fitness 2020 group, self named Healing Every Rose (HER)

The Betty Wheeler Seed Garden

In honor of Betty Wheeler – designed and built by Robert Greene Sands, with eight raised beds built by Lucas Wood for his Eagle Scout project
The eight garden beds, raised up on table-like platforms host an array of fruit, vegetable, and herb plants being harvested and donated to local food banks as a part of our GAIA Program

The William Randolph Memorial Gardens – designed and built by Robert Greene Sands
Parking area
Tree of Life

The tree forms a natural canopy, designed for personal reflection and healing. This tree stands as a living metaphor for resilience. It is close to 100 years old and was felled in a 2015 hurricane. Despite these hardships the tree continues to grow and thrive.

Garden Labyrinth

Coming soon!
An ancient design and symbol for a meditative and spiritual journey, garden Labyrinths provide a place for personal contemplation and renewal. A labyrinth is composed of a winding path with no wrong turns, leading to its final destination that is also the beginning. It is a kinetic and mindful journey that connects the human soul with the soothing balm of nature. Our planned labyrinth is modified to fit the landscape and be  accessible, with pathways separated by bulwarks of aromatic herbs and folds in a second entrance.

Garden Arbors, Bridges and Pathways

Howie Landa Boardwalk & Bridge of Hope – designed and built by Jeremiah Peed
Iris Lane, in honor of IDX
The Roost, designed and built by Jeremiah Peed
The Bridge over rocks – designed and built by Jensen Burbules
Rose Boulevard, in honor of Fay Davis
The Old Castle parabolic walkway – built by Robert and Allison Greene Sands and Greg and Kelly Smith
Camellia Row – in honor of Doug
Woodworking in the Garden
Woodworking classes
Grit Restoration
Description of program
Link 1 pager
Post images of restored wood projects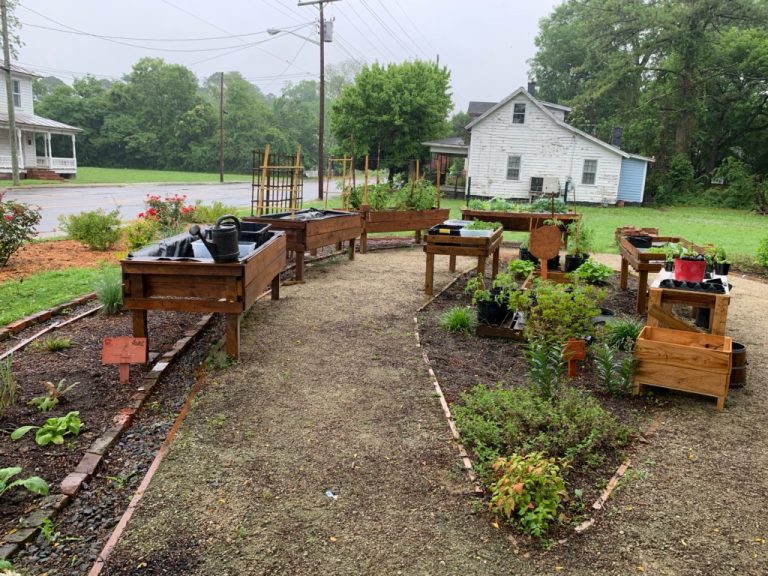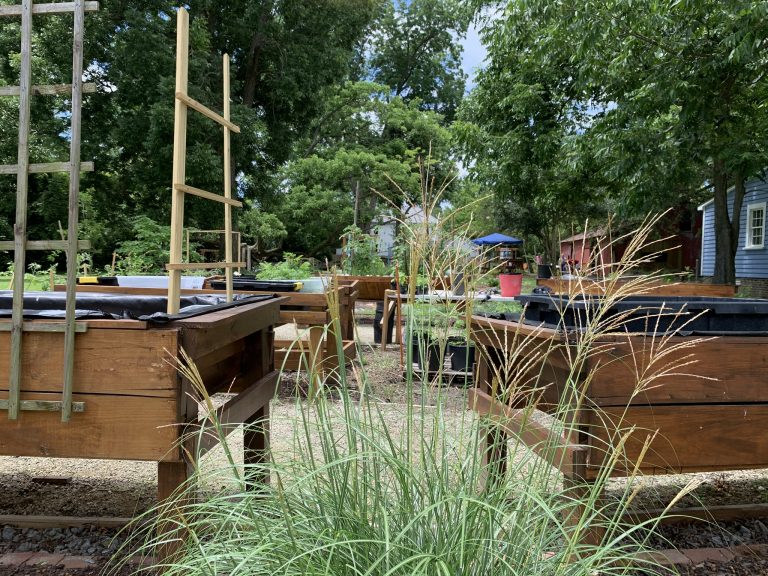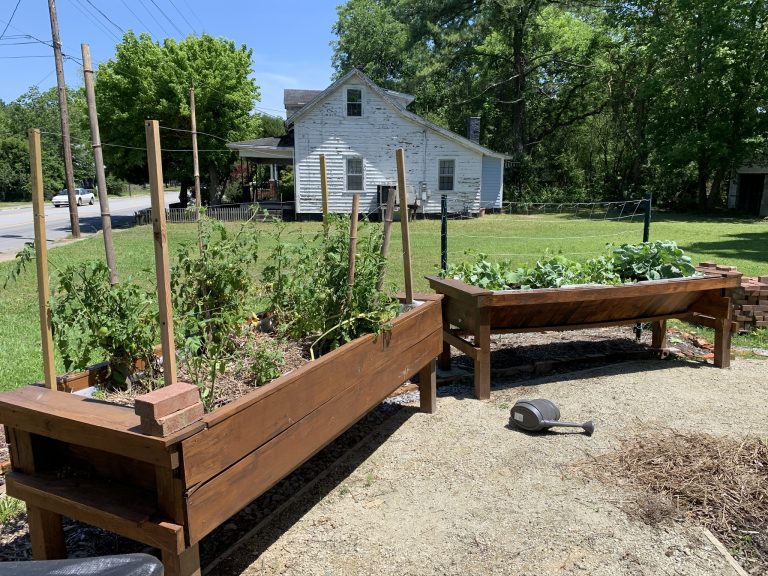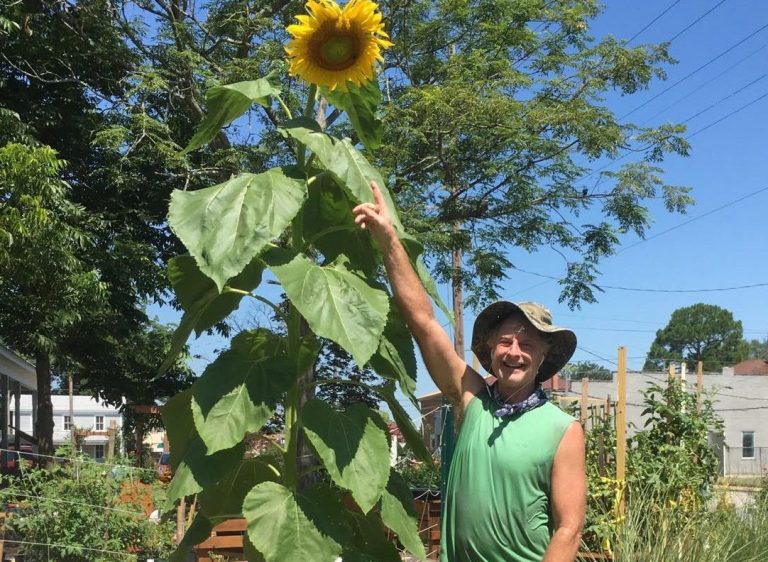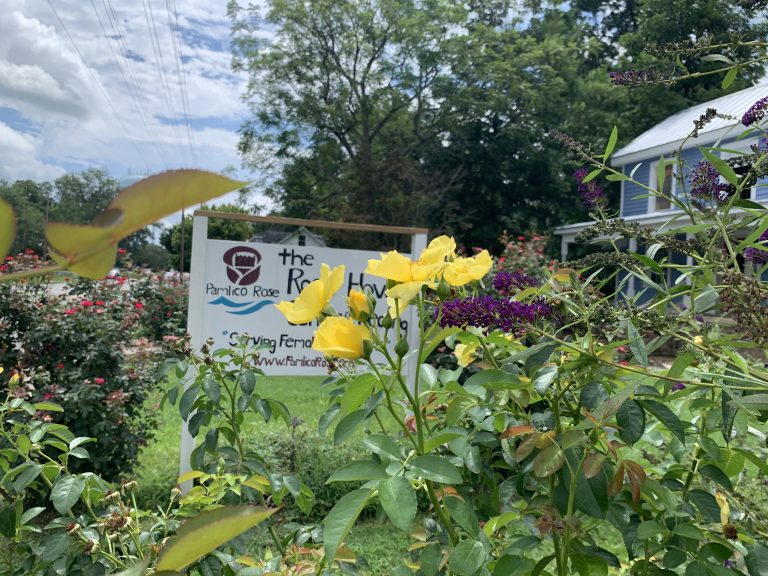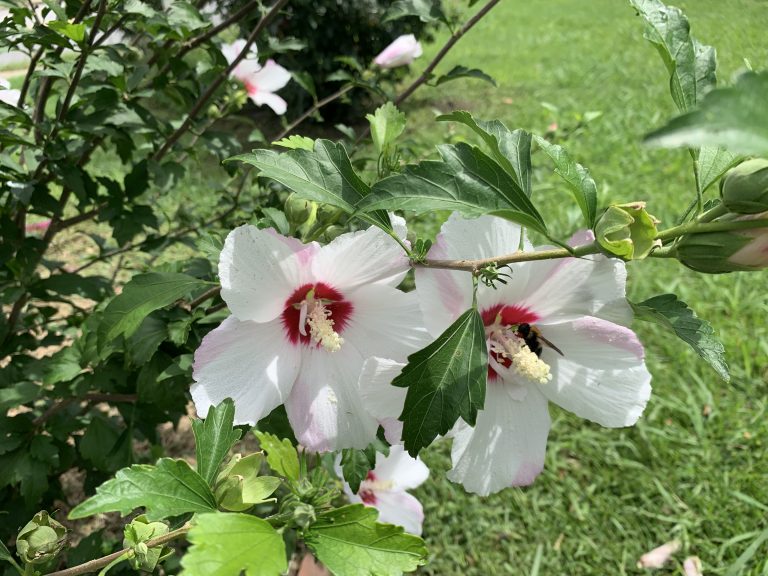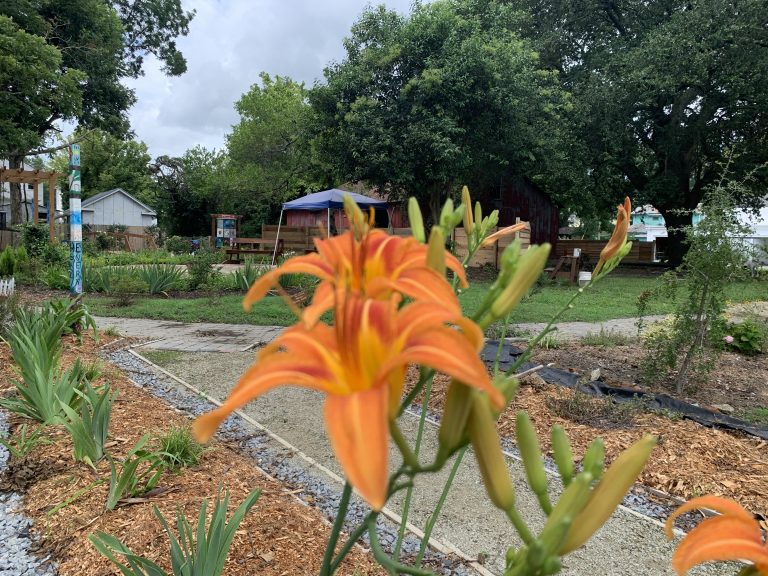 The Green Agriculture Initiative (for) All (GAIA), incorporates eight raised garden beds in an organic food donation program with local food banks, like Eagles Wings. This program is currently being run by Pamlico Rose staff and volunteers. In the future, Pamlico Rose hopes to incorporate this program into both the Resilience & Reintegration (R&R) and the Total Life Fitness (TLF) retreats.
Contact @pamlicorose.org
Link to Volunteer registration google doc

Potential Responsibilities:

Social Media – posting and updating
Working in the garden – weeding, painting, gardening, bricklaying, and more!
Volunteer and more formal gardening opportunities offered in the Seed Garden as well as in the shrub and perennial beds throughout the healing landscape
Volunteering with Pamlico Rose at the Rose Haven Center of Healing provides you with opportunities to help women Veterans, engage with the healing gardens, and learn hands on practical skills like woodworking, and gardening
By volunteering, you will also be helping an under-served and at risk population, as well as supporting the community in Washington, NC
Increase wellness and helps you build resilience


Personal benefit
Incorporate Rob's column


When you're helping others, you're helping yourself

Community service hours for volunteer credit for a school or organization may also be available
If you work more than __ hours as a Rose Haven Volunteer you will receive a Free t-shirt