Your generous, tax-deductible donation to Pamlico Rose will help support the many facets of our mission to serve Veterans who may be struggling with the effects of their military service.
There are four pillars of the Pamlico Rose mission that need financial support:
Rehabilitate the farmhouse and create a healing landscape
Develop and host our wellness and resilience building programs for female Veterans
Build support for Pamlico Rose programs
Prepare for long-term operations of the Center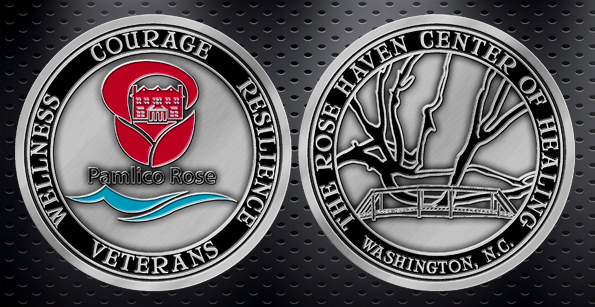 For those who give $500 or more, please accept from us a Pamlico Rose military-style challenge coin. A challenge coin is a specially designed coin to confirm membership in an organization or group, or can represent an achievement, anniversary or a special event. In the military, challenge coins have a storied history and are proof that you are a member of a unit or served on a specific tour of duty.  Receiving a coin is a great honor and builds pride and morale. The challenge coin tradition keeps members of the military connected to one another, even after they leave the service. Veterans frequently display coins from the units they have served in and missions they have been on, and the leaders they have met. Challenge coins represent unity and create lasting bonds which is why we at Pamlico Rose believe it is a great gift for our generous donors who support our cause and mission. 
If you wish to mail your donation, 

please send it to:
Pamlico Rose
P.O. Box 264

Washington, NC  27889

 
EMAIL NEWSLETTER SIGN UP
To stay on top of all the amazing things we are doing at the Pamlico Rose Institute, please sign up here for our email newsletter.