Photo by Robert Greene Sands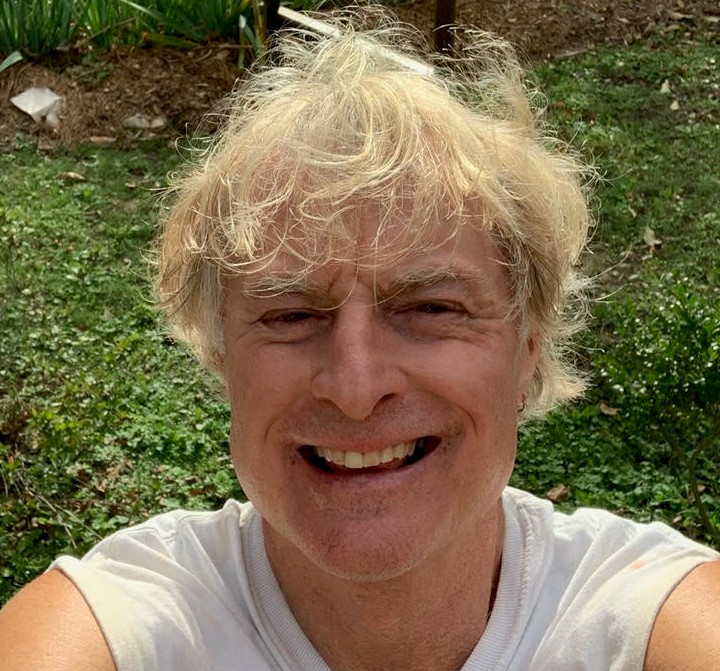 November 19th, 2020
Production Editor Kaitlyn O'Donnell 
The Pamlico Rose Journal is brought to you by the Pamlico Rose Institute
What art offers is space—a certain breathing room for the spirit.— John Updike
"You have to be focused, your actions precise and mind in the present when you cut glass, or else it will break and shatter," stained glass artist Sue Kammers explained to me.  Sue is one of the artists featured in this year's Healing Vets Virtual Art Exhibit, a family member of a Veteran, and a co-collaborator on a piece we did for the gardens at Rose Haven Center of Healing. We sat beneath an overhang in front of her garage/art studio, a block or two from the Pamlico River, during a September rainstorm—socially distanced of course. Sue was describing the technical skills necessary for her art that she has pursued on and off for over twenty years. But as we talked, Sue also explored with me the therapeutic value of her craft. "I come out here (garage), put music on, and create. My world for that period fits into my garage. It has also been my self-therapy over the last number of years."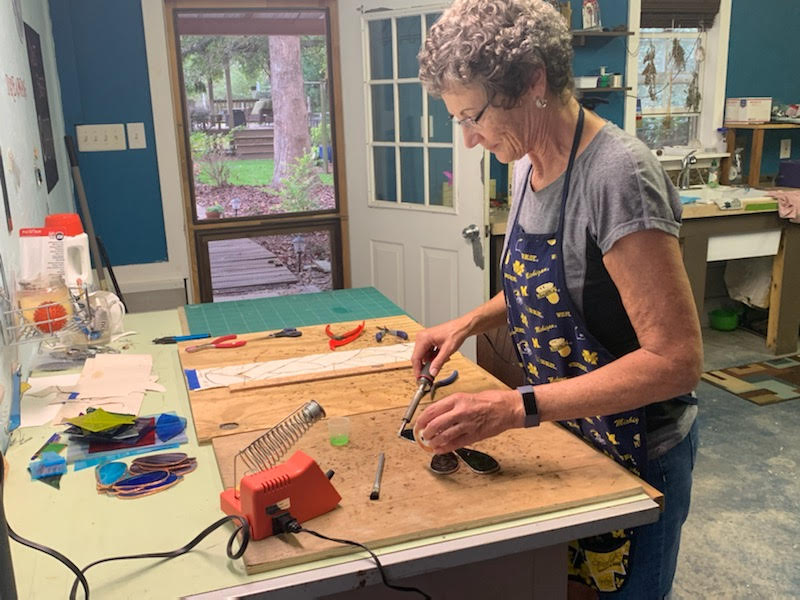 Photo by Robert Greene Sands
Now, creativity shores up her resilience one year into remission from stage 4 lymphoma.
Ask any artist: art-making stops time, or maybe the artist steps outside of relentless ticks and tocks that govern our minds. The creative process allows the artist the opportunity to transcend the material "reality" that binds us all to an egoistic, self-centered, narrow view of the world around us that includes the existential messiness of our past and present lives. Art-making manages to sever the ties that lock us in and frees our creative energy to express connections with a world that is larger than our mind and body.
As we talked, the rain beat a staccato rhythm on the tin roof above us, seeming to affirm Sue's explanation. Outdoors, even if dry under a canopy, the sensuousness of a rainstorm offers the kind of sensory and emotive palette that feeds into the creative process, the sound of drops cannoning off roofs, leaves, driveways, and sidewalks, the rush of wind through the trees and the cracks of thunder, the streaks of light that momentarily light up the heavens, and the rich, musky, and primal scent of the earth lingering, wafting about at the mercy of the storm. Rain is like that wall, isolating on one hand, but prodding the creative mind on the other, evoking a symphony of embodied feelings.
Ancient Stirrings of a Creative Species
Art is very deep in human history– Augustín Fuentes
Humans evolved to be creative. The ability to imagine and to transform that imagination into reality is a distinctive quality of our species. Writes anthropologist Augstín Fuentes, "Our lineage survived while all other human species went extinct because our ancestors used their creative capacity to reshape the threats and opportunities of their environments, in turn reshaping themselves." Creativity became an inborn resilience fueling adaptations to shifting environments. Our species' distinct behavior of social collaboration only enhanced and advanced the benefits of it. Fuentes continues, "Humans have a real knack for figuring out how to make it work through the toughest times."
We think of creativity as bursts of ingenuity leading to innovation. Or we think of it expressed in the beautiful melodic arrangement of notes, the exquisite use of color, the compelling potency of narrative, or the ever-changing kinesthetic positioning of a dancer's body as it flows across a stage. Yet creativity at its most fundamental level is the simple but transcendental human ability, as the Guardian puts it, to "derive new from the old. . .through the constant and "relentless reassembly of information we already possess." 
Photo by Robert Greene Sands
Much research has been devoted to understanding how creativity works in humans, but the picture emerging is a deeply historical nature/nurture stew complete with a recipe for the right kind of genes and neural architecture in a neurochemical broth, seasoned by experience and stirred by environmental context. When sipped the stew sparks a novel way to engage with the universe. When sipped with others, the social connections almost infinitely expand our horizons of the art of the possible. From the way our brains were built to the company kept, we all are creative, some just more creative than others.
Over time, creativity has filled other roles in our lives. Visual as well as other expressive and creative arts—dance, music, poetry, writing, and other art forms— have become a central part of wellness and resilience-building.  Summarizing an abundance of recent studies, noted expressive arts therapist Cathy Machiodi writes, ". . . participation and/or engagement in the arts have a variety of outcomes including a decrease in depressive symptoms, an increase in positive emotions, reduction in stress responses, and, in some cases, even improvements in immune system functioning." There is even advantage in observing other people's "artistic" creative expression. But like the iconic Nike slogan, if you really want to benefit from engaging the creative self that lives inside all of us to contribute to wellness, then "Just do it."
Creativity, Expressive Arts, and Military Trauma
Military Trauma Today's veterans often come home to find that, although they're willing to die for their country, they're not sure how to live for it. – Sebastian Junger, Tribe: On Homecoming and Belonging 
As the rain lessened, I asked Sue about her nursing career. For 41 years, Sue was a sort of journeyman nurse, working in all kinds of health care settings: clinics, private practices, and hospitals. She spent the last 13 of those years serving women Veterans, first at a small remote VA clinic in rural Michigan, then for the last three years at the Women's Center within a VA facility in Greenville, NC. Sue was no stranger to the male Veteran population either; her father served in Korea and she married a Vietnam Veteran. In the company of men who went into and survived harm's way, Sue could see the impact of trauma on their physical, mental, and emotional health. Once known as shell shock or war neurosis, the legacy of the Vietnam conflict ushered in the concept of a post-traumatic effect on Veterans when combat is but a memory. For Veterans struggling with trauma, the effects are enduring, burrowing into the mind and soul while ravaging the body.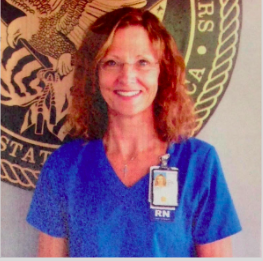 Photo Courtesy of Sue Kammers
In his book Tribe, Sebastian Junger reports that the greatest impact of PTSD on Veterans who served in combat during wartime occurs when the military members finally "come" home and transition out of the service. They are no longer deployed into combat zones where behaviors like hyperawareness and the tight cohesion of their unit kept them alive. Instead, they become isolated from their units, cut off from the bonds of brotherhood that kept them alive. They are no longer part of the military which gave them the security of structure. They are alone and rudderless, unable to contend with the effects of the trauma that begin to surface. Like the professional athlete who competes past his prime, many Veterans with PTSD who had deployed and saw combat wish they were back in action. Active-duty women service members, although not in actual combat roles, can and do experience trauma in combat support roles as medical workers, rescue pilots, and logisticians, among others. Both male and female Veterans share similar experiences with the effect of trauma after leaving the service: elevated and often debilitating anxiety and stress, deep depression, hyperawareness/vigilance, isolation, anger, and many other concerns. 
However, often PTSD in women Veterans is gender-based and not a result of combat. Most of their negative experiences stem from higher rates of military sexual trauma (MST), workplace bias, and domestic violence while serving. These occurrences are experienced even more frequently among women of color. Women Veterans often socially isolate from others and find it difficult to seek support for a number of reasons. They suppress memories and even their identity as a Veteran due to their experiences and society's lack of recognition and appreciation for "their service." Many women Veterans struggle with the burden of family demands after transition; many are single parents or caregivers for other family members, leaving little time for self-care. Until recent substantive changes, the VA lacked or provided insufficient support and resources for addressing the physical, mental, and emotional needs of women Veterans. 
The women Sue worked with during the last three years of her career at the Women's Center were different than the female patients she encountered earlier in her career, even at the small VA clinic in Michigan. Sue got more involved in their treatment beyond physicals and other checkups. She did intake interviews to find out if they were experiencing the effects of trauma. Many of them were. She sat in on MST group meetings. "Many of the females I cared for struggled with depression, MST, and PTSD," Sue told me. The rain had gradually subsided, leaving behind the drops that still fell from the trees and dripped off the overhang, each drop a small detonation. "It was difficult for them to share what was happening or had happened to them so that they could get the care they needed physically, mentally, and spiritually. Many of them had trust issues as well. It took time for them to feel comfortable enough and brave enough to ask for help." In these group sessions a lot of work was done by the Veterans on understanding the effects of trauma on their wellbeing and its impact on friends and loved ones. But this work was no end-all by any means; healing can often be a life-long process.
Creative Resilience—In Their Own Words
The trauma said, "Don't write these poems.
Nobody wants to hear you cry
about the grief inside your bones."
But my bones said, "Tyler Clementi jumped
from the George Washington Bridge
into the Hudson River convinced
he was entirely alone.
"My bones said, "Write the poems."
― Andrea Gibson, The Madness Vase
The emphasis on wellness and its integration of mind, body, and spirit approach has found its way into the military and the VA. The expressive arts represent one dimension of wellness used with success in treating PTSD. Those creative activities help wall off the trauma's destructiveness by building a safe place for the Veteran to reframe and convey through imaginative powers those important embodied feelings, such as frustration, despair, and anger without allowing the feelings to take over. In 2008 Malchiodi first worked with Navy SEALs dubious of the power of art "to transform their stories and make meaning out of what happened." Working with a therapist, the SEALs engaged in group therapy with more "elaborate" art, and some went on to exhibit their work.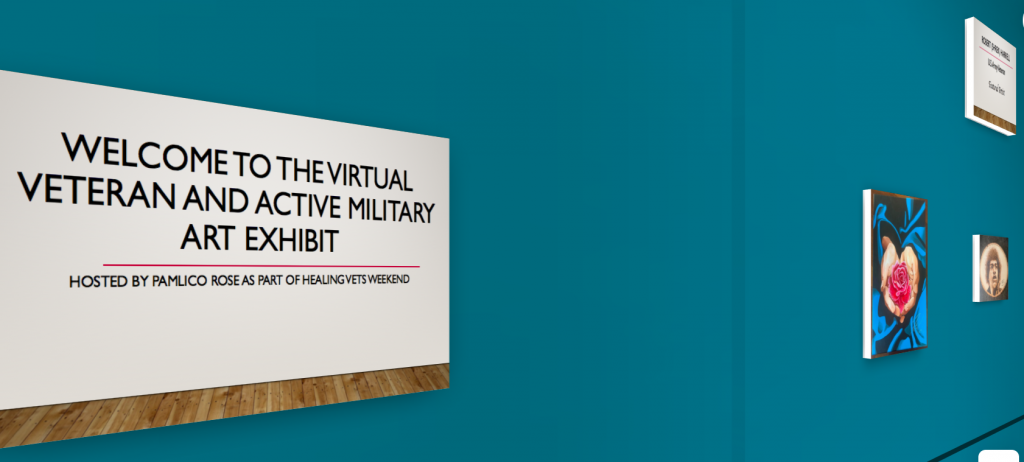 Our creative impulse, and the process of artmaking (creative expression), generates a product or performance that speaks to, and about, the unspeakable. "All the world is a stage," wrote Shakespeare, and to Veterans suffering from PTSD, that stage can be a canvas, a camera, a mound of clay, pen and paper, and even an actual stage.

In our Veteran and Active Military Art Exhibit, open until November 8, that stage highlights two Veteran artists, including our featured artist, Robert Harrell, who attribute their art to helping manage PTSD. "I find it helps me in an attempt to calm the internal storm. I have a lot of memory issues, so I grasp my art as it is familiar and constant," Harrell writes in his bio that accompanies his artwork. Harrell was an Army medic and suffers from Traumatic Brain Injury (TBI) and sepsis that developed from knee surgery. His art-making allows him to contend with the "constant daily struggles. . .and torture. . .and the monster and demons that come with [PTSD]."
Air Force Veteran Omar Columbus lives with PTSD. He likes taking photographs, he told us in our podcast interview with him. Behind the lens, Omar is anonymous and safe, an observer. He is in control, his finger snapping the shutter and capturing an image. Control is important to him.
"What I like about being behind the camera is I'm in control and that's why in New York City I did a lot of street photography because times where I didn't want to interact with someone, I could look out, I could set a scene, and I could stand off from everybody, yet I'm still in control."
More than occasionally, beyond his control, the trauma experienced in Iraq comes back to him in different ways. His poetry provides him a literary avenue to explore his experiences, like his photography, from the safe space of his literary lens.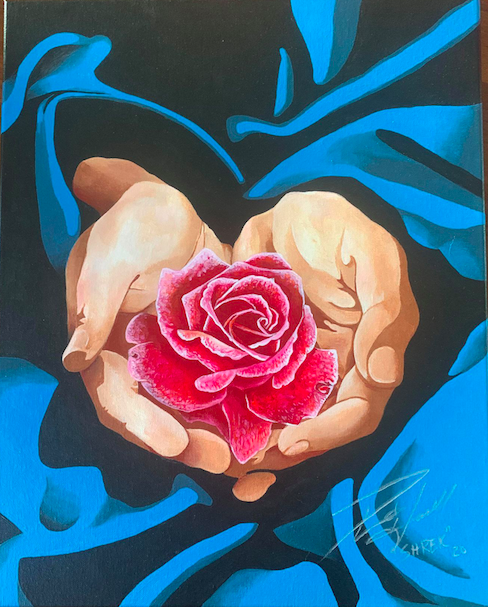 Healing Hands by Robert Harrell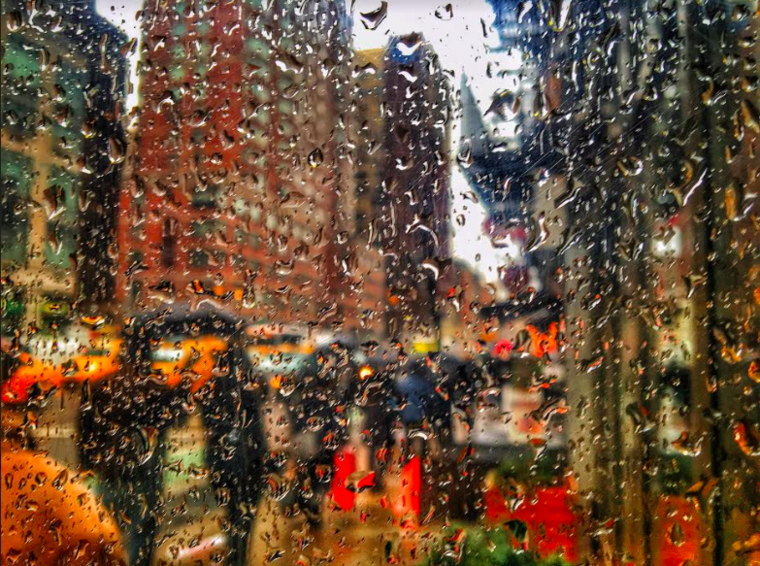 Raindrop photograph by Omar Columbus 
Both Harrell and Columbus became part of a larger support group of Veteran artists, Robert with Creative Forces, a joint effort, and Omar in a separate effort to establish a support group of Veteran artists in New York City. Under Omar's direction, the group organized a highly acclaimed visual and performative art exhibit titled, "From There to Here: Military Veterans' Experiences," where many of the artists showcased their work.
In our own three-day wellness and resilience-building retreats, currently on hold due to COVID, participants spent four hours over two days involved in individual and collective creative expression led by our art therapist, Danielle Braxton of Creative Forces. The women Veterans worked on visual art pieces that became, when they left, part of the Healing Gardens, connecting them to the healing space long after they left.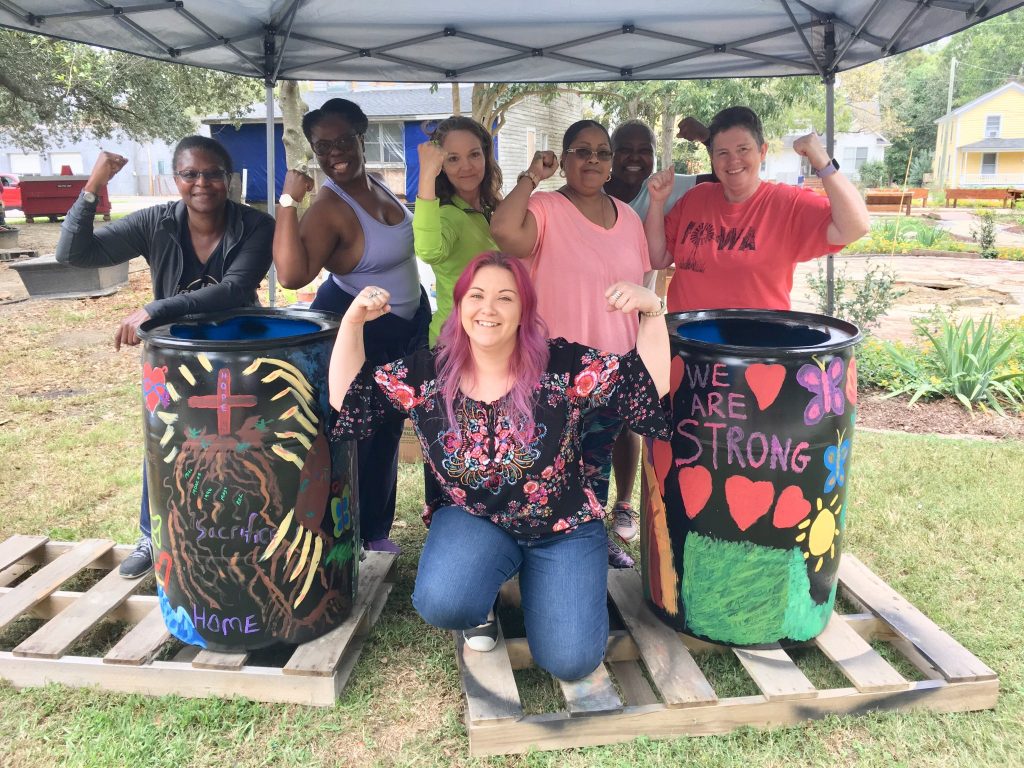 Full Circle —When the Caregivers Become the Survivors
I was so arrogant, incredibly cocky . . . and I was entirely self-righteous. I was doing God's work. You could either step up and help me do God's work or you could step off. ― Laura van Dernoot Lipsky
With the last 10 months of COVID, much attention has been paid to frontline health care workers and the physical and mental toll on them as day in and day out they deal with acute sickness and death. Most often, they are also the only ones witnessing the final breaths of their patients as family and loved ones are barred from seeing them. I have seen many video logs of nurses and doctors talking into their cell phones or computers about COVID on TV after a long shift. Their faces are drawn, their voices strained and uneven, and their narratives raw as they struggle to put into words the hopelessness and despair they feel as the virus eats away at their patients. The toll of the trauma on them is immediate, the impact enduring.
In a thought-provoking TEDx talk, Laura van Dernoot Lipsky, author of Trauma Stewardship: An Everyday Guide to Caring for Self While Caring for Others, and founder of the Trauma Steward Institute, explores the lasting impact of trauma on those who witness or give aid to those experiencing trauma. In a career involving working with survivors of child abuse, domestic violence, sexual assault, acute trauma of all kinds, and natural disasters, she started her own inquiry into the lasting effects of her intimacy with others' trauma. Those who take on the task of service, "people who are working to help those who suffer," she writes, "must somehow reconcile their own joy — the authentic wonder and delight in life — with the irrefutable fact of suffering in the world." Her advice about reconciling is to know when to take a break, to realize you are signing on for the long haul and you can never give in to the "seduction of going numb," and to minimize the immediate or long-term effects of the "vicarious trauma" you witness or take part in as caregivers or responders. In a compelling passage of her talk, Lipsky advocates striving to engage our innate and exquisite ability to stay in the present, as that is often the only control we have to interrupt the flow of countervailing experiences of others. This interruption allows us to transform the impact on our person, and ultimately provide the severance, if only for a metaphorical moment, for us to disengage, collect our wits, and sweep up our emotions. And most importantly, for us to step out of ourselves and that experience and spiritually or soulfully reinvigorate a sense of wonder with what we consider to be the divine. 
"Do you think you struggle with trauma from your work as a nurse, specifically with your tenure at the VA?" I asked Sue. The songs of birds announced the "all clear" call after the rains had ceased, providing a natural musical score to back our continued discussion—ironically comforting melodies given the turn of subject.
Sue thought for a minute. "I don't think so," she replied. "After being a nurse so long, I thought I knew how to turn off the job when I went home at night. I do know that when I moved here to work in the Women's Center, it became more difficult to turn it off. I can remember driving home after working my shift, with the radio blasting and the windows open so I wouldn't think about what I left behind."
As if to put up a wall partially built by Amy Winehouse and the occasional Led Zepplin.
Sue took up stained glass artmaking before she started working for the VA. She took a class in it as a lark, and fell in like with it, or became attached enough to learn the basics. Over the years, she advanced in the intricacies and focus glass demands, now and then taking breaks from it as her busy life intruded. I imagine there were times during one of her extended vacations from glassing when the tools and materials might just have easily become relics, discovered years later, among the clutter in the basement. But that didn't happen. In Sue's mind through all those years, she wasn't an artist, maybe an apprentice. 
Not surprisingly, it wasn't long after starting work at the Center that Sue picked it up again. With passion.  And music blaring from the speakers in her studio.  Art became her therapy. She completed her certification to teach yoga, she kayaked, did stand up paddleboard; she was "self-medicating" with activities that kept her in the moment. Creativity, movement, and nature helped her transcend daily life and connect her to states, places, and moments larger than herself—kept her well and resilient.
"Maybe I suffered from burnout a bit," Sue told me, a tacit admission if there ever was one of the effects on her of those last three years.
The Path Newly Traveled Each Day
Sue finally retired and the music didn't blast anymore; this time it soothed when she worked on her glass to exhibit and sell. She began displaying her pieces in a local gallery.
. . . until the music didn't play at all.
Shortly after retiring, she returned from a medical mission trip to face a diagnosis of late-stage lymphoma. Over that next year, she went through chemo and radiation, and after all of that, her body down to her cells was ravaged for the sake of obliterating the cancer. She undertook stem cell therapy when there was nothing left to kill (healthy blood cells are introduced into a vein to work back to the bone marrow where they activate the production of more healthy blood cells). After one failed attempt, the therapy gained traction and Sue's new blood cells began to first sketch then paint a new life on her resilient canvas.
It had been a year of not allowing hope to intercede. Twelve months of destroying life inside you, the good and the bad. Why build yourself up to only crash on the rocks below. Mortality sleeps next to you, wakes up, and becomes an unwelcome companion as each day is just a fight to see the next dawn.
The evening sun's rays start to sneak through the clouds and light up the mist, a glowing and dazzling yet subdued natural electricity as our talk was nearing its end. The perfect backdrop to illuminate Sue's final chapter in her journey from darkness into the light of imagined opportunity spread out over a lifetime of days, not just a day bookended by dawn and dusk.
She has been in remission for a year. Her studio reflects creativity come back to life.  Softer music accompanies her work. She has sold glass creations; in fact, she entered two pieces in the Healing Vets art exhibit and has dabbled in watercolors. "Being in my studio and creating gives me satisfaction and joy and that feeling has increased since my cancer and stem cell transplant," she told me. "As with most things that I do now, life seems sweeter and that is certainly the truth with my glass."
She is back into paddleboarding, this time paddleboard yoga. She hikes and even relishes the opportunity to leaf blow her yard. She visits with her kids and grandkids and has lived with the dangers of COVID doing a number on her remission. That didn't stop her from taking a trip to Italy with her sister before COVID arrived on the scene. Even in the time of COVID, her life is no different than the reality of cancer survivors always being cognizant of the dangers of infection and contagion.  Survivors walk that existential line that separates living life as fully as possible and incurring risks that threaten the future.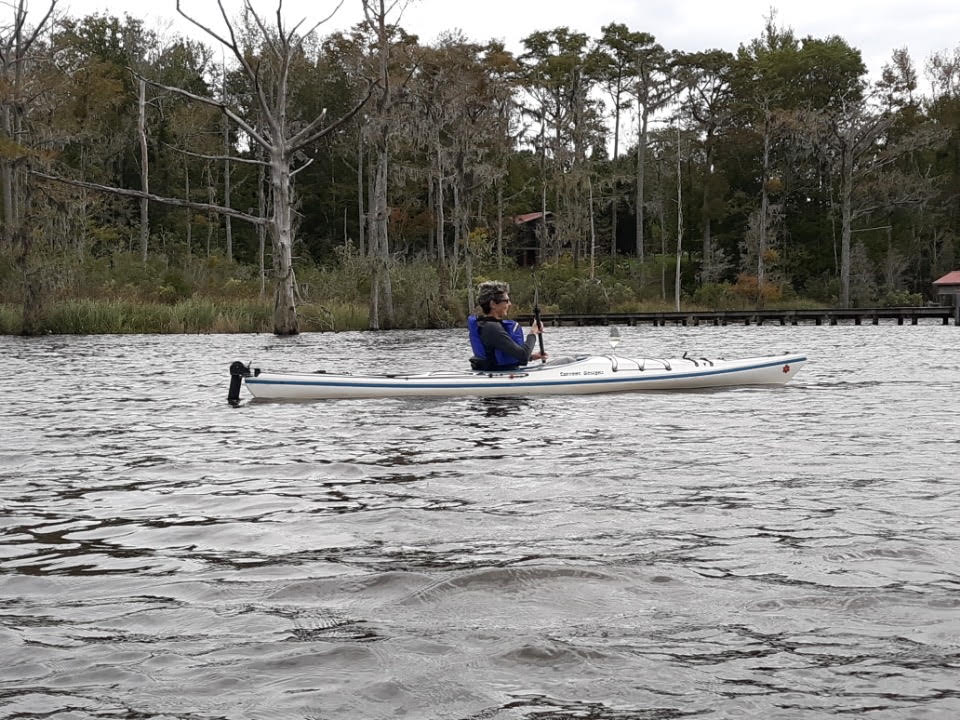 Photo Courtesy of Sue Kammers
And here is where Sue has come full circle. Now more than ever, she is a trauma survivor, like those women Veterans she served. Life is good until it isn't, and there will always be memories of that year lurking in her consciousness, shadowing her subconscious and laying in wait in her unconscious. That and fear of the day when remission gives way to cancer's return.
She is like Robert and Omar and the women Veterans at our retreats who put their toes in the pool of healing creative expression for the first time, and the countless other Veteran and non-Veteran trauma survivors who have tapped into our ancient and resilience-building creative "wiring" to reimagine the past and connect with a future that holds promise.   
Sue is learning how to work through that creative calculus, embracing wellness as her antidote, one gorgeous, life-affirming, glassmaking, SUP yoga, leaf blowing day at a time.
Robert Greene Sands, PhD is the CEO of Pamlico Rose Institute and an adjunct anthropology professor at Norwich University. He designed the innovated Betty Ann Sands Memorial Healing and Artful Gardens at the Rose Haven Center of Healing, and with his dedicated team, developed, built and brought the Gardens online.  His most recent publication, "A Phoenix Rises for Female Veterans" can be found here.
The Pamlico Rose Journal is brought to you by the Pamlico Rose Institute. For more information on the Pamlico Rose Institute please visit us at www.pamlicorose.org .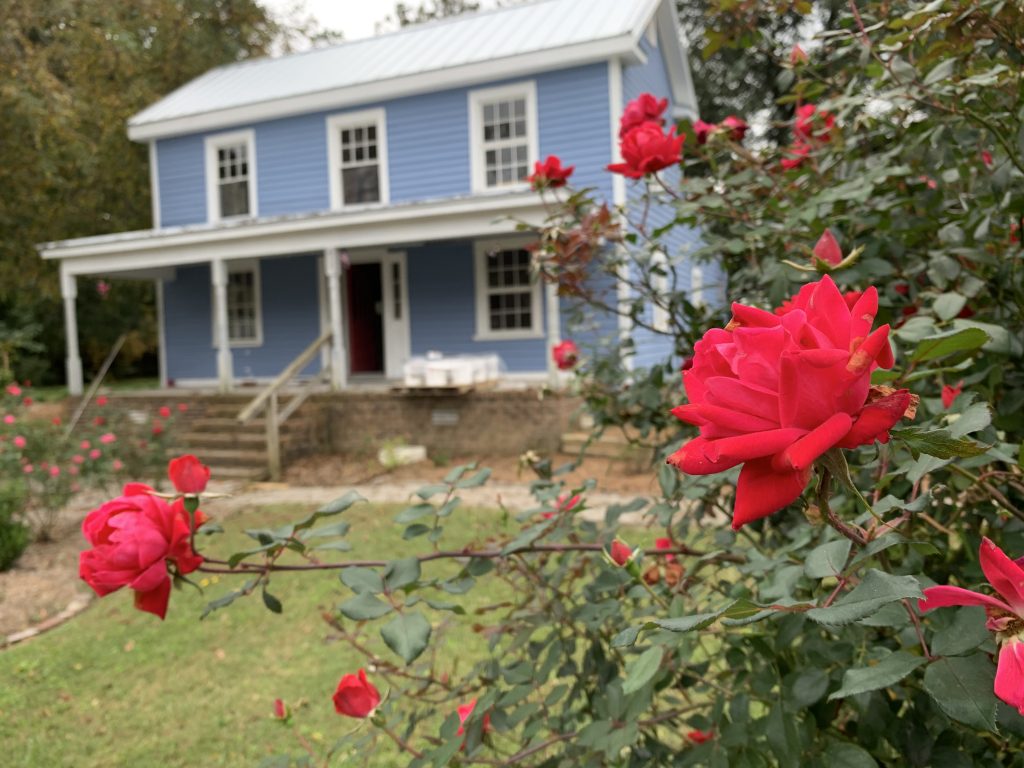 About Us:
Pamlico Rose Institute (PRI) is a Washington, NC, nonprofit 501(c)(3) with a primary mission to advance wellness and resilience-building programs for women Veterans- Vet by Vet. Founded in 2016, PRI advances Total Life Fitness (TLF) is an integrated approach for women Veterans that promotes healthy living and positive prevention strategies. TLF involves meaningful and persistent attention to daily activities and events, such as healthy eating and cooking, yoga, gardening, creative expression, and movement through nature. Living fit also utilizes behavioral and interpersonal skills to build and engage a supportive community. Finally, TLF includes self- transcendence – connecting to others, a cause or beliefs beyond self – as an important element in living fit.
The Institute's Rose Haven Center of Healing is the anchor for their mission and programs and include a renovated 1892 farmhouse, an adjacent historic barn as a multipurpose support facility, and 1/2 block of healing landscape composed of the Betty Ann Sands Artful and Healing Gardens, with a meditation area, garden labyrinth and the raised bed produce gardens. The Center hosts retreats, a residential experience and day programs and is home for woodworking and gardening programs for Veterans and community members. PRI's efforts also involve virtual and online wellness and resilience programming to help reach a greater audience and hosting events and activities to raise awareness of issues affecting women Veterans.